"

I benefited from the lows and the highs. I illustrated how I move with the tides."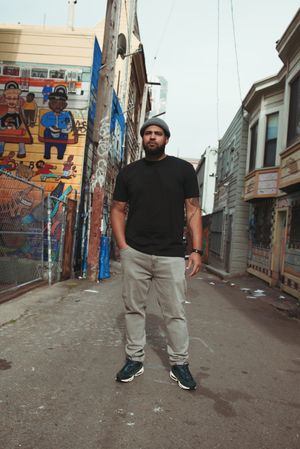 Bio
Zachary "Bigg Z" Hampton, or "Z" for short, is a multi-faceted emcee from Stockton, CA. Known for his intricate lyrics and compelling metaphors, Z has become a quiet storm in the Hip-Hop community. Z's journey to becoming a wordsmith did not follow its usual path. Before his current residence in San Francisco, he started traveling the world at a young age. This gave him a broader prospective not only about his life, but more importantly, his music. Z was exposed to a mixture of artists, culture, and language, opening his mind and expanding his musical pallet.
It wasn't until the age of 17 that Z touched his first microphone, exploring poetry, singing, and spoken word. Shortly after, he found his lyrical voice in rap. From his debut EP Progressive (2015) and first full-length album The Wait is Over (2017), who featured long-time rap veteran KXNG Crooked (f.m.a. Crooked I), to his latest EP God's Plan (2020). 
A well-rounded lover of all things lyrical, Z's wide range of influences span from R&B to Jazz and even Pop to all variations of Rap and Hip-Hop.  Z's intelligent, yet playful approach to Hip-Hop simultaneously entertains and educates listeners. "I'm not your average emcee," says Z proudly. "My story is not formulaic, which is why you can identify my sound from everyone else's." 
Though he would be considered a latecomer in the game, Z's earned his stripes on stages throughout California. After the release of Progressive, he was interviewed and featured on Dash Radio's Native Rhymes station.
Currently he is promoting his EP God's Plan  and is set to be following up with a unique visual from the recent project.
To his growing fan base, Z offers predictions for what's to come, "I'm going harder than before, roll with me through these next stages."